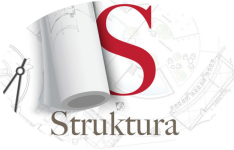 Nadia Galushko is the CEO of Struktura as well as a creator,  planner,  organizer,  inspirer, and mediator.
Nadia was born and raised in Moscow, Russia and has been in USA since 1991. She has achieved a Master's degree in Interior Design & Architecture  from the Corcoran College of Art and Design, Washington, D.C., a true leader in Interior Design education. She also successfully completed the History of Modern Design MA Program at Sotheby's Institute of Art in London, United Kingdom. Nadia strives to live with passion for excellence and to be true to herself and others. Since 2010, collaborating with exceptional talents in various areas of construction, Nadia had been involved in Design and Construction projects in Virginia, Maryland, Washington, DC and, surrounding area as well as in other parts of the world.
As a designer, Nadia offers comprehensive expertise from the smallest re-decoration to a full-scale mid to high-end renovation and design to be implemented in new constructions.
Throughout the years, Nadia has built a large library of the best manufactures, materials and products she utilizes in her projects to fit any client's budget and requirements.
Nadia is an official dealer for a number of manufacturers of cabinetry, providing the clients with the advantage of purchasing top quality cabinets at the designer price. She is also a US representative for Luxury Bedding from "VeraItalianLinens" offering retail and individual customers  the superior quality bedding directly from a manufacturer located in Tuscany, Italy.
Nadia's process to meet the client's goals is an intricate combination of creativity and efficient strategy. She embraces all styles, and strives for each space to reach its full potential, be unique and true to its owner's personality and needs. Decisions are never made based on stereotypes and preconceived ideas. She believes in a dialogue on three levels: 1) client – the dialogue between the client is on-going and customer-focused for achieving a co-created design 2) contractors – dialogue with contractors lead to proven success 3) design – combine the historical background with contemporary insights for a genuinely excellent and functional design. Under Nadia's leadership, Struktura designs are infused with cultures from all parts of the globe, resulting in a unique approach and appeal.